Surplice cami being done in sunset colors
I used to hate starting a new project when I was in the middle of another - perhaps the large amount of unfinished sewing in my little craft corner weighs heavily on my mind. But lately, I've discovered that having a few projects 'on the side' let me keep working while taking a break from a large piece or a frustrating one.
I have nominally 'finished' a baby blanket - gotta' wait for gender indentification to add the appropriate border. I have another baby blanket, two sets of slippers, a camisole/boyshort set for myself, and a second cami for me all in WIP status. And just found out I'll be an auntie again come March, so add another blanket to the list.*blink* How'd that happen? (Not the baby thing. I'm good on that issue. Not thinking about it. That's my little brother. Ew.) I've never taken on so many projects at once. And oddly, rather than finding it overwelming, I finding it motivating.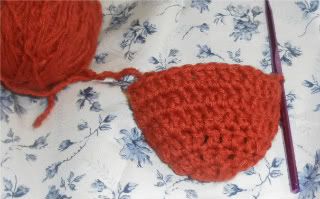 slip your toes in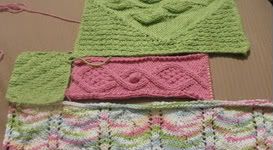 piece work for baby blanket #2
I love being able to work with the different patterns: changing colors, needle sizes and styles of work based on my mood, available time and where I'm at. I can carry the slippers with me and work on them while at my mom's or in the waiting room of the doctor's office. (Love those school physicals.) The blanket or camisoles can occupy my hands while catching up on a show. (The scarlett cami goes great with True Blood, the bright pink and green of the baby blanket matches the silliness of Psych and Leverage.)

lace for boyshorts
There is the occasion moment of frustration that I've done all this work, and have nothing completed. But one of the benefits of digital cameras and trying to share my work with people means I have reference pics of my progress. With digitally date stamped photos. :D It's fun to look at the progression of something. But I love being able to show off a finished item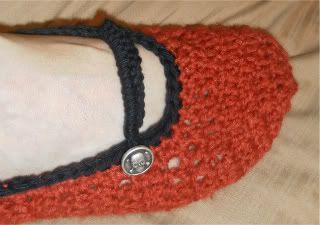 One down, it's match and one more set to go.
So what do you do to keep motivated when you feel like you've been working on something forever, and not getting anywhere? This can be for crafts, home improvements, writing...what keeps you going? Do you like to have several things in the pipeline all at once, or do you focus on on thing at a time?